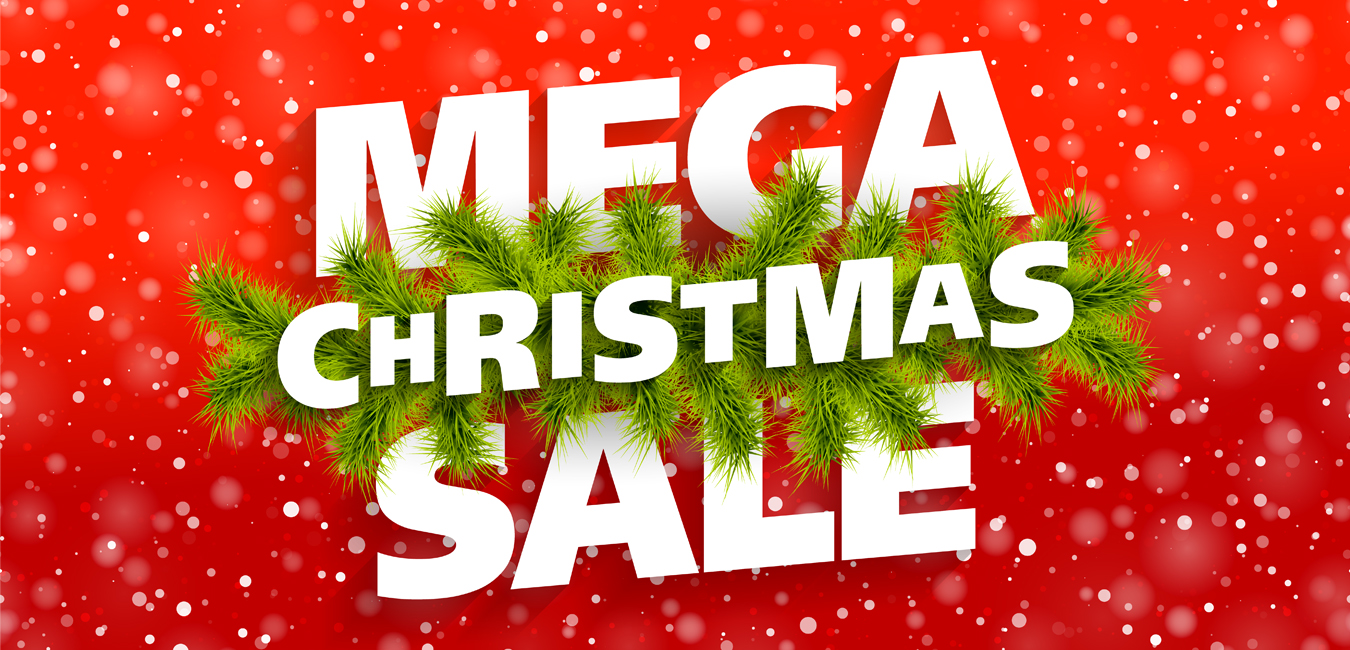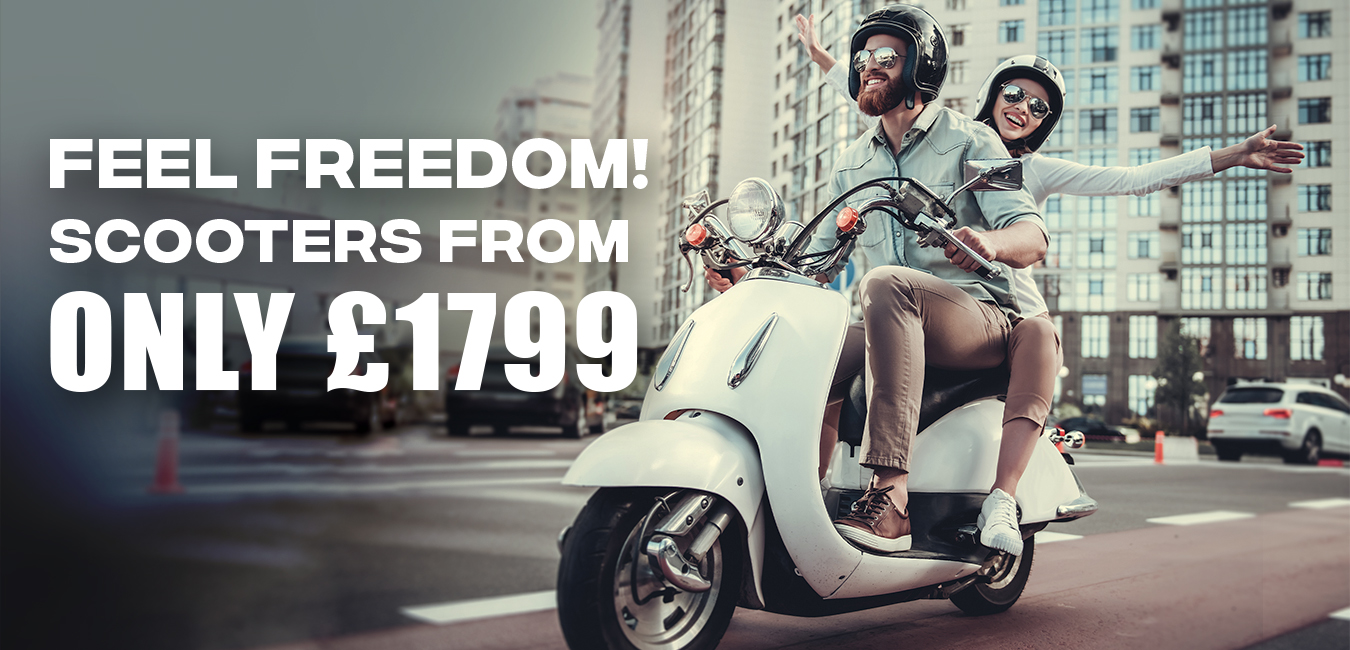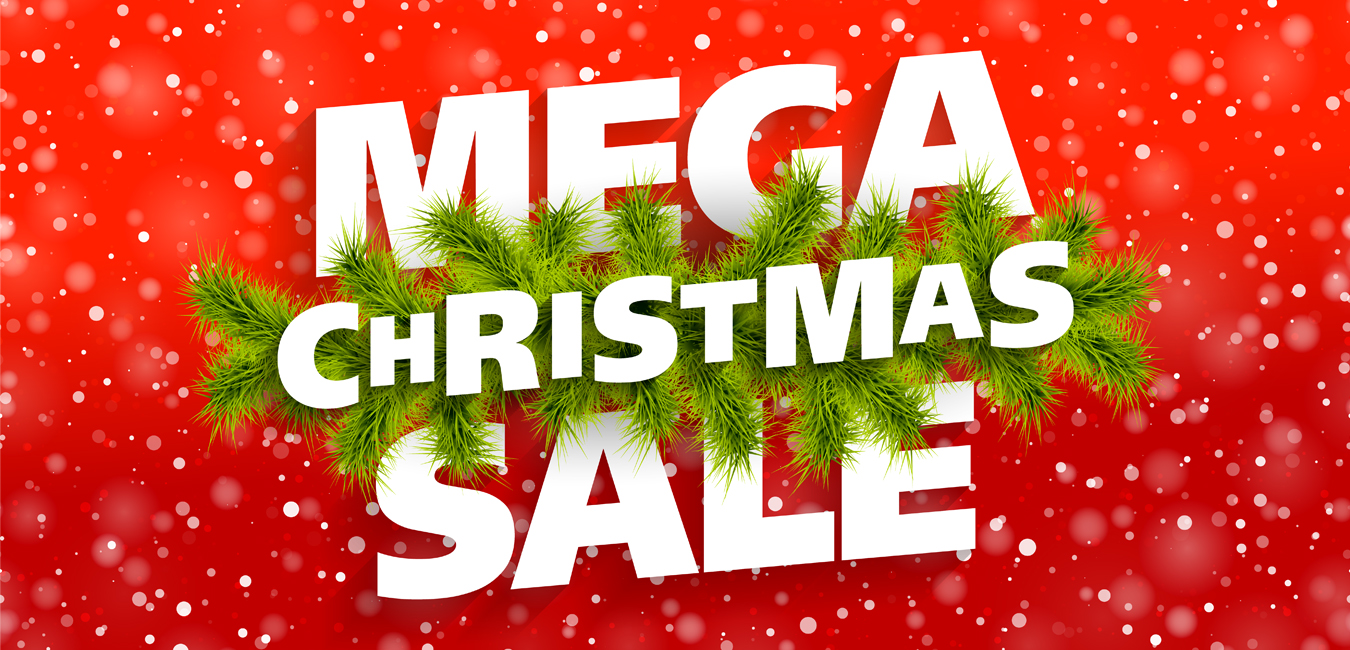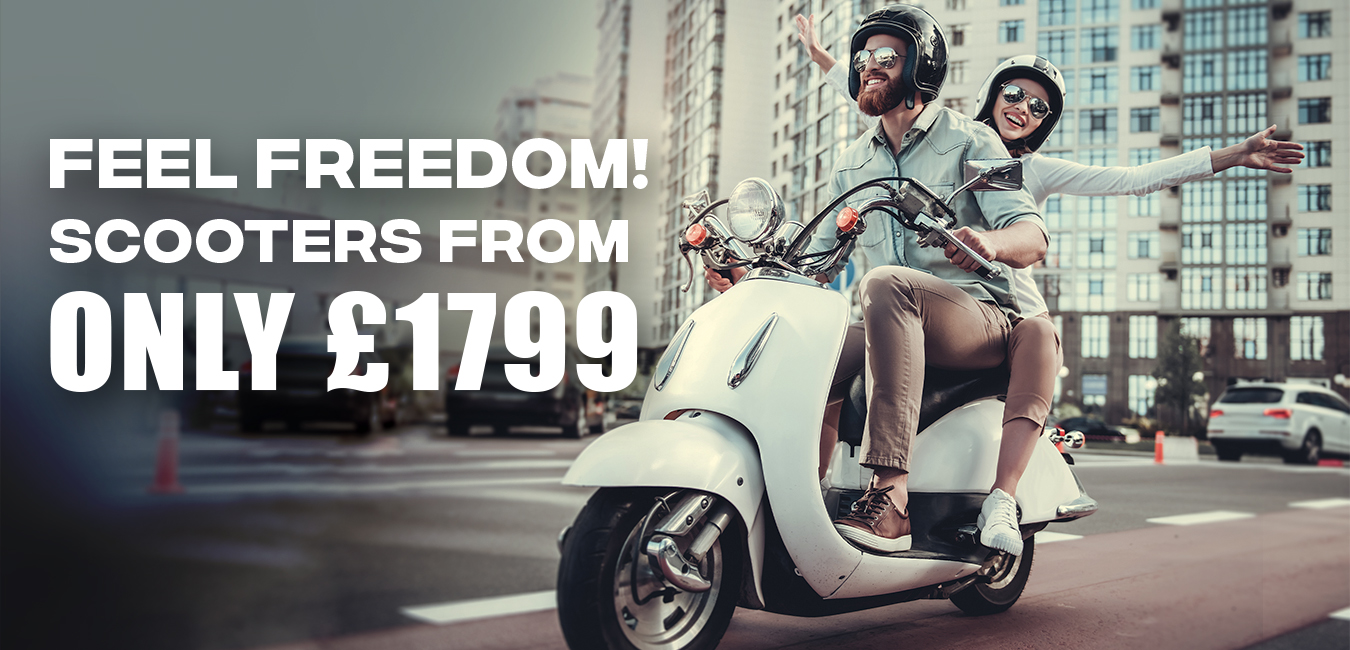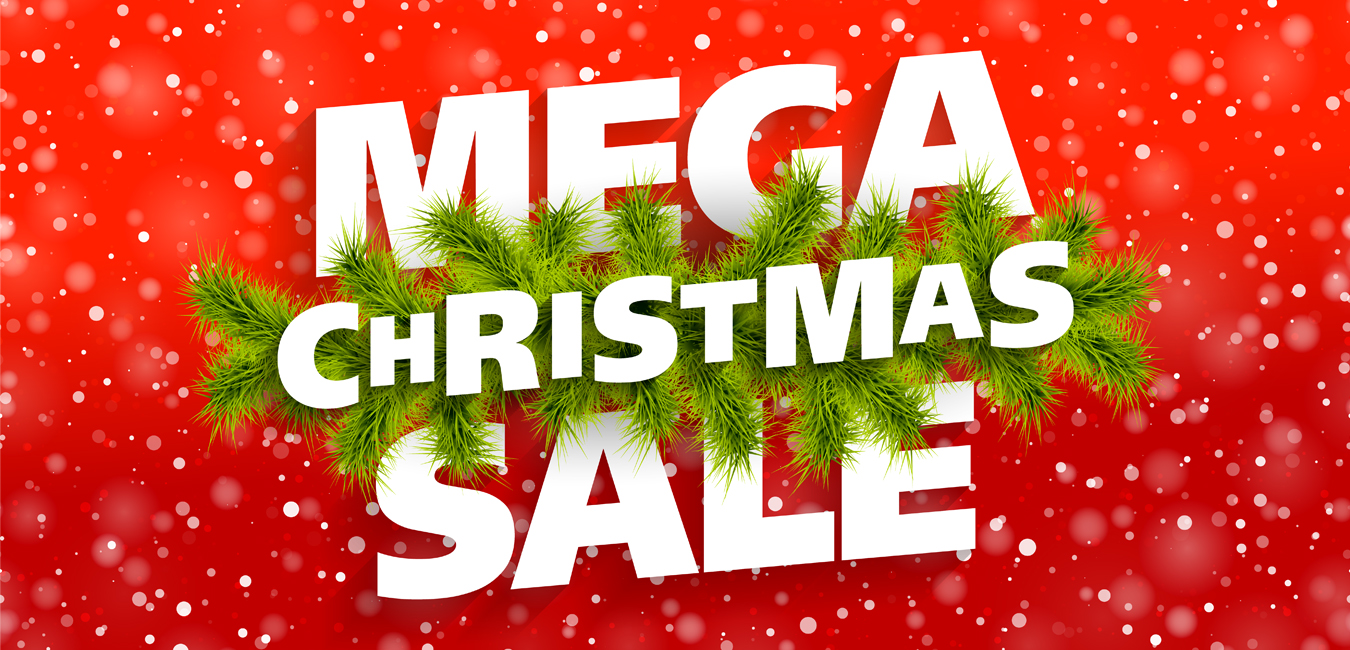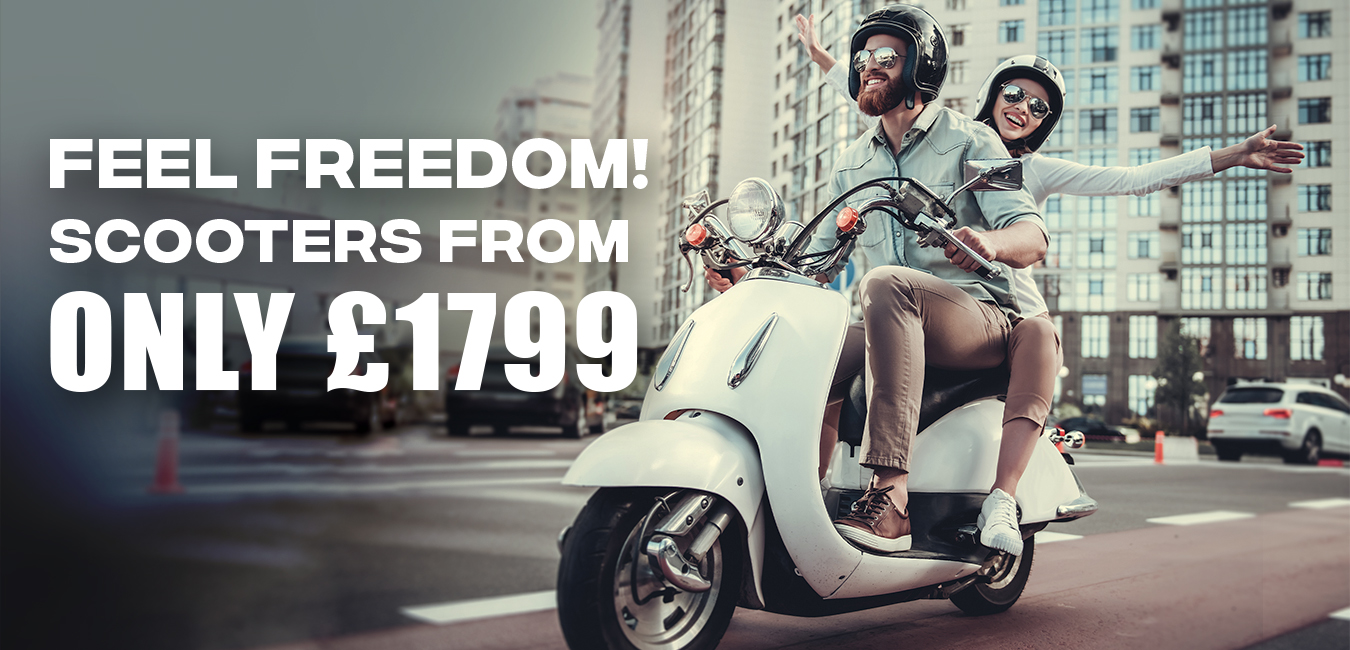 50cc to 125cc Scooters For Sale
We're the UK's No.1 Scooter Brand,
stocking a large range of
scooters from 50cc to 125cc,
delivered direct to your door.
We offer with all our scooters:
1 YEAR UNLIMITED MILEAGE WARRANTY
OVER 200 APPROVED SERVICE CENTRES
ALL PARTS AVAILABLE
SCOOTERS ASSEMBLED
Welcome to Direct Bikes - The UK's No.1 Scooter Brand
We deliver our 50cc or 125cc scooters direct to you at unbeatable prices. Because there's no middle man involved, we can keep our moped prices extremely competitive. Check it out – you can get a moped for sale from as little as £1699 plus delivery. No wonder we're the number one scooter brand in the country!
Browse through our fantastic range to find the style that suits you best. Whether it's a retro-look, classic Italian lines or a sportier model, you'll find your perfect moped for sale right here. Easy to park and light to handle, they are also great fun to ride. All our 50cc moped and 125cc moped models are fully automatic - simply turn on the engine and use the accelerator to twist-and-go! They appeal to everyone and are ideal for the daily commute, buzzing around town or cruising on the weekend. Not sure which one is for you? Be sure to use our 360-degree tool to check out the models from every angle. You can also watch the accompanying video clip to help you decide.
Our large range of modern petrol scooters for sale are beautifully designed and finished in eye-catching colours. Manufactured to the highest standards using top quality material, all are sold with a one- year, unlimited mileage warranty. For extra peace of mind, you can take out an extended four-year warranty when you order.
Moped for sale and scooters for sale are available in two engine sizes 50cc and 125cc. A 50cc scooter combines economic fuel consumption with great all-round performance and are ideal for using around town. With a moped for sale top speed of 30mph, makes it the perfect choice for first-time riders. If you're looking for a moped for sale that packs more punch while still delivering great fuel efficiency, go for a 125cc. Top speed in this range is 60mph.
Order your scooter today
Ordering from us couldn't be easier and can be completed in a matter of minutes. Just click on the moped for sale that you like – remember to use the 360-degree feature to inspect it from every angle – and then choose from the range of colours of scooters for sale and moped for sale. Click through to your delivery options and payment, and you're done! Once you've confirmed your order, your fully assembled scooter will be shipped direct to your door within three working days. If you can't wait that long, you can request special, next day delivery. Here at Direct Bikes, we're proud to supply customers with a moped for sale, one of our scooters for sale at the lowest possible prices. Order today!
Free offer when you order today
If you order today, you can also take advantage of our great fee offer. Depending on the model you order, we'll include a free top box (worth £69.99) or a free top box and screen (worth £109.99) with your motor scooter. Considering these are both costly and essential parts of any new vehicle, this is an offer that you really don't want to miss!
<!Logo Markup>
Direct Bikes Limited
https://www.scooter.co.uk/images/logo.png
We supply our scooters direct from the factory, cutting out the middleman. We also avoid glossy brochures, fancy showrooms and aggressive salesmen. Because we keep our overheads low, we can pass the savings on to you.
Kemp House, 152 – 160 City Road
London
,
London
EC1V 2NX
Phone:
+44-0845-6520680
www.scooter.co.uk
Hours: Mon-Fri 10am - 5:30pm Sat 10am - 4:00pm
Scooter.co.uk
Commerce
,
Scooter | Scooters For Sale | Direct Bikes
,
Direct Bikes Limited
Kemp House, 152 – 160 City Road
London
,
London
EC1V 2NX
Email:
sales@scooter.co.uk
www.scooter.co.uk