Scooter fires out 15ft-long flames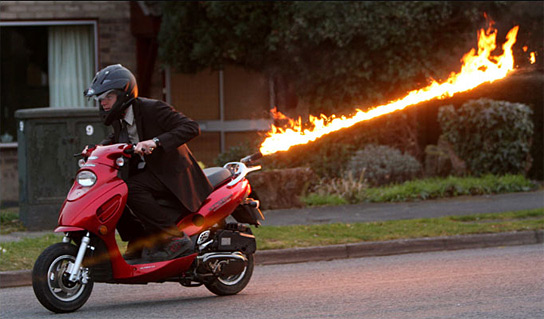 Invention ... moped fires 15ft-long flames
GEOFF ROBINSON
A HOT-headed scooter rider fed up with drivers cutting him up invented the ultimate road rage revenge — a moped which fires 15ft FLAMES.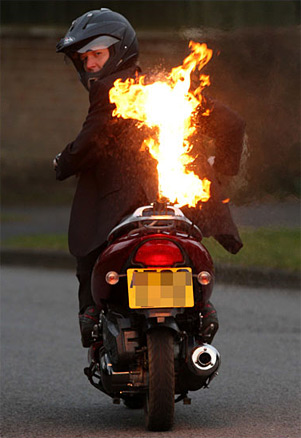 Commuter Colin Furze spent a month converting his Direct Bikes sports scooter to include a custom-made flame thrower.
The James Bond fan installed a button on the handlebar to shoot the huge flames from the back of the 60mph moped.
Colin said: "It's a lot of fun and when I fire the flames out the back it makes me feel just like James Bond.
"The flames are pretty big and up to 15 feet long."
Colin, a plumber, initially tried firing flames from a BMX bike and it worked so well he decided to try it on his moped.
Now he has even attached a lever to change the angle of the fire.
He said: "It was quite tricky to make and the first version wouldn't fire the flames when the moped was moving.
"My second attempt kept setting fire to itself, but my third version works really well and I'm very pleased with it."
But Colin, who built the flame thrower in his back garden in Stamford, Lincs, won't be able to use his hot new invention on the road.
He said: "I've been told that if I fire the flames while riding on the road it's equivalent to using a fire arm and I could be in a lot of trouble.
"Unfortunately I won't be able to ride it into the centre of town but it's a lot of fun and I'll use it off road."